Sometimes or rather often, it is difficult to plan our work. What I mean is the work depends on various situations and decision makings. We planned our annual leaves and vacations but suddenly something important came in and we have to cancel the entire plan. Have you been facing that?

Canceling your plans after planning them for weeks or months must be really frustrating. But, we have to accept the fact. We are working for somebody. We are an employer. We are an engineer. We have a responsibility and we must deliver what we are supposed to do. "no understanding".

So, what can be very important that suddenly hinder you from being a temporary away from your routine work. There are a lot. It depends on what field you're in. It can be a problem faced by your customer and you got to fly urgently to their place and solve what ever problem they faced. I've experienced such thing before. A problem appeared while my colleague was handling a small routine project at Kerteh. There was some trouble blending our chemicals and it affected our customers production. My boss rang me and asked me to drive to Kerteh that night to clear the mess. As a committed employee, what can I say..... 30 minutes after the telephone conversation, I began my journey from Johor Bahru to Kerteh, leaving my family behind over the weekend. That was from my previous job as a chemical/project engineer.

As for my present job, I really look forward to enjoy a short one day break during the coming Labour Day. However, to my surprize I'm not going to be able to enjoy it. We have a problem. The main problem is simply lack of raw material. At the same time, the annual machinery inspection is due. Hence, both reasons combines and resulted to a week long annual shutdown beginning this Sunday. There goes my weekend and my public holiday (This is what I call "area beyond control"). All the planning and decision was made in a space of 5 hours. And within those 5 hours, I've to rush to arrange and plan everything.

Tentative shutdown planning, schedule, manpower arrangement, contractors, JKKP (my colleague is handling this) and others need to be settled before today's working hours ended. Why? Because tomorrow is going to be a weekend and the annual plant shutdown is going to take place commencing this Sunday. Friday afternoon is the only time to settle all the planning and coordination. Luckily, I've pre-planned the shutdown and I can swiftly prepare all the necessary stuffs for the shut down.

Well, that is some slice of my feeling, emotion and story that I can share. I'm not saying that I'm not happy working as an engineer. I like the job and I'm very proud to be an engineer. However, this is what we call responsibility. As an engineer, we have to perform whenever and wherever we are required to. At some point, there are a lot of sacrifices that need to be done. It's just a matter how well we can adapt and cope with our job. Are you tough enough to be an engineer? Only you can answer it...
Labels: Chemical Engineer, Jobs
posted by Kipas Repair JB @ 10:48 PM,

2 Comments:
At Wednesday, April 30, 2008, said...

At Wednesday, April 30, 2008, Kipas Repair JB said...
The Author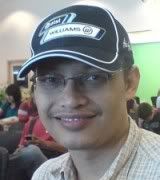 I'm Zaki. I used to be a project, process and chemical engineer. Few years ago I successfully became a Chartered Engineer (IChemE) and Professional Engineer (BEM). I'm now employed as a chemical engineering educator/researcher/consultant. Hope you like reading my blog. I welcome any feedback from you. My email: zaki.yz[alias]gmail.com. TQ!