For those of you who haven't been offshore but want to have a sneak peak on how it feels traveling and working there, check out the following videos. They are very interesting and it certainly reminds me on those early days when I used to go offshore.

In this first video, you might wander why the helicopter is not landing yet? Why it is circling the platform?

The second video display some view on how the life begins when you start the journey from the main land, fly in a helicopter and land at the platform. It's really amusing.
This 3rd and final video really shows the life as a citizen of an
offshore platform
. You can see the sunset (oh yea..i remembered that, and I love that moment), yea.... I traveled on a
Sikorsky 76
as well, check out the living cabin, the
drilling process
. It also shows my favourite spot which is the cafeteria where we are served with fantastic tasty foods while watching TV.
--------------------------------------------------------------------------
Get Your Dream Offshore Job - Offshore Oil Industry Resume Distribution Service And Employer Services
Labels: Chemical Engineering, Oil and Gas
posted by Kipas Repair JB @ 12:11 AM,

2 Comments:
At Monday, May 05, 2008, said...

At Monday, May 05, 2008, Kipas Repair JB said...
The Author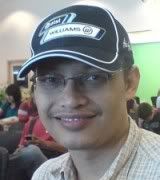 I'm Zaki. I used to be a project, process and chemical engineer. Few years ago I successfully became a Chartered Engineer (IChemE) and Professional Engineer (BEM). I'm now employed as a chemical engineering educator/researcher/consultant. Hope you like reading my blog. I welcome any feedback from you. My email: zaki.yz[alias]gmail.com. TQ!