Despite a disastrous weak world economy, college graduates can expect to make good money, if they major in chemical engineering and later on work as a chemical engineer or related engineering disciplines. Yes, this is true and was reported in hotnewz.tv at the end of 2008. So, for those of you who are still deciding on your career future, consider chemical engineering. It's exciting, interesting, challenging and lots of fun. Not convinced? Check out this video...

Labels: Chemical Engineer, Chemical Engineering, Jobs
posted by Kipas Repair JB @ 4:02 AM,

2 Comments:
At Friday, March 13, 2009, said...

At Tuesday, September 15, 2009, Unknown said...
The Author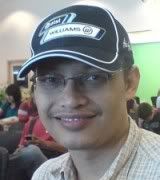 I'm Zaki. I used to be a project, process and chemical engineer. Few years ago I successfully became a Chartered Engineer (IChemE) and Professional Engineer (BEM). I'm now employed as a chemical engineering educator/researcher/consultant. Hope you like reading my blog. I welcome any feedback from you. My email: zaki.yz[alias]gmail.com. TQ!