My research group, Chemical Reaction Engineering Group (CREG) is currently and urgently searching for a Post Doc to assist its research activity. Anybody who is interested with reaction and catalysis engineering, green energy, plasma reaction, pyrolysis, zeolites, biomass etc AND fulfills the requirements (refer below) are encourage to apply.

The Closing date of this job is on the 23rd of March 2009.

Details of the Post Doctoral Fellowship Scheme:

This schemes provide funds for appointment post doctoral research fellow who will conduct full time research work and thereby contributes towards enhancing and strengthening research work in particular research area. Candidate must be foreign researcher (non-Malaysian citizen) who possesses a doctorate or will obtain within 6 months in related field of studies from a recognized institution of higher education.

Terms of appointment:

1. The tenure for the post-doctoral is one (1) year subjected to research performance.
2. Monthly allowances is RM5,000.00 based on his/her proven skills and experiences.
3. Travel expenses (economy class only).

Eligibility Criteria:

1. Application must be made by the Post Doctoral candidate through his/her UTM supervisor.
2. Non-Malaysian Post Doctoral candidate need to prove his/her proficiency in English through TOEFL (minimum score 600) or IELTS (minimum score 6.5).

Documents to be attached together with application form:

1. Passport
2. Recent photograph
3. Academic certificates (Diploma, bachelor, masters, pH.D or senate approval letter)
4. TOEFL/IELTS results or other equivalent certificates.
5. CV
6. Research proposal

For interested candidates, please contact me at zakiyamani@fkkksa.utm.my.

Be the best chemical engineer you could be. Learn something about chemical engineering that's not inside your textbook. Subscribe to the content of this blog.
posted by Kipas Repair JB @ 4:49 PM,

0 Comments:
The Author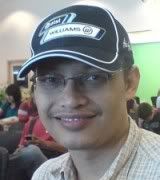 I'm Zaki. I used to be a project, process and chemical engineer. Few years ago I successfully became a Chartered Engineer (IChemE) and Professional Engineer (BEM). I'm now employed as a chemical engineering educator/researcher/consultant. Hope you like reading my blog. I welcome any feedback from you. My email: zaki.yz[alias]gmail.com. TQ!