Since I graduated from as a chemical engineer 10 years ago, I have learned and experienced lots of interesting and fascinating stuffs related to chemical engineering. I still remembered how excited I was when I was a research officer and a master students. I was excited due to the fact that I learned new knowledge on daily basis. It was good to be able to learn and learn from the likes of lecturers, technicians, suppliers, colleagues and others. I always ensure and allow myself to accept and welcome new information and it enriched me.

Now, as an educator and researcher, I'm still eager to hunt for new knowledge. The hunger and desire for new inputs, new information keep burning inside me. I still learn new things, new knowledge, new information on a daily basis. The ultimate difference compared to the decade ago is the internet. With internet, information is feed directly to our eyeballs. It's up to us to accept or to avoid the flood of information.

I would like to highlight few new knowledge that I gained in the pass weeks. It might be useful to share it with others.

1. FLUENT software

I learned about this software while discussing with a senior colleague about simulating what happen in a reactor. I never heard about this software before, but after some brief explanation on what this software can do, I found it interesting to use this software later for my pH.D. Fluent
is actually a a robust, reliable, comprehensive CFD flow modeling software. I'm still exploring this software. For further information, please visit FLUENT.COM. In case you have experience using this software, feel free to share your experience with us.

2. Data acquisition tool/software

I plan to insert thermocouples inside my quartz reactor to study the real time heat profile in my reaction. I've learned this from my other half pH.D research. The thermocouple and software provides very good temperature data gathering and will be very useful for me to analyze what actually happen inside the reactor. I'll update the link for this later.

3. Setting up a plant (real plant)

Setting up a plant is not as simple as what we learn and report during our final year design project. It's tougher then what we expected. I'm involve with a real project that requires us to assist a company set up a plant in a nearby heavy industrial estate. I learned how a plant have to prepare documents in order to fulfill Department of Environment (DOE) and other important agencies. The task was not easy but I surely learn the real thing. I really appreciate the experiences I gained from this project.

Well, there are more projects that I'm involved and there goes the continuous learning process of a chemical engineer. You'll surely have lot's of thing to learn directly and indirectly.

A relative of mine, Ir. Palgunadi from Indonesia, whom I regularly meet, advised me to take note of everything that I learned and later on possibly put in properly and nicely in a book for others to benefit from it. He has published his own book few years ago and is in process of publishing his second book this year. Although he is a mechanical engineer, but surely is a good and charismatic person. There was one day, somewhere in January 2009, he asked me, my wife, my brother and father, what is enthalphy? Followed by another question, what is enthrophy?
He demanded us to answer in a very simple way that a layman can understand. We did answered in our own version, but he explained it in a simple way and we were impressed.


Labels: Chemical Engineer, Chemical Engineering, Learning Curve
posted by Kipas Repair JB @ 10:18 PM,

0 Comments:
The Author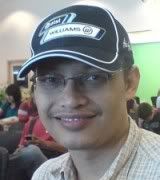 I'm Zaki. I used to be a project, process and chemical engineer. Few years ago I successfully became a Chartered Engineer (IChemE) and Professional Engineer (BEM). I'm now employed as a chemical engineering educator/researcher/consultant. Hope you like reading my blog. I welcome any feedback from you. My email: zaki.yz[alias]gmail.com. TQ!