When you get retrenched or loose your job, it's not that easy to find a replacement quickly. Rather than become desperate, why not consider a unique job? Oil rig work is far from boring and you can be earning a considerable amount of money within a few short years. Even without qualifications, you can still be in line to earn in excess of $40 000 dollars per year. And don't forget, you are usually only working for half of that time. So how do you know if you have what it takes to land a job on an oil drilling platform?
Your first port of call should be to gather as much information as you possibly can about the oil and gas industry. Despite the doom and gloom in most other sectors of the economy, the oil and gas industry play such a vital role in our everyday lives that the demand for petroleum products will continue to outstrip demand for a long time to come. Offshore drilling and surveying takes place across the globe, so you will be sure to find an area that you will enjoy. Don't forget though that oil platforms are normally way off shore and you will need to be transported there by helicopter.
That means that you won't be slipping ashore to enjoy the night life. You will be confined to the oil rig for the duration of your shifts which can be two to four weeks long. If you are the type of person that doesn't do well in cramped and sometimes uncomfortable conditions then this may not be the career for you. You will need the sort of personality that can adapt to changing conditions. You will need to get along with your fellow crew members for days on end so miserable individuals won't really be tolerated. If you are under 30 years old then your chances of getting a foot in the door are considerably better. No-one will tell you that, but it's a fact of life in the oil job sector.
As in any other job search process, you need to sell your skills and qualifications to the recruiters and human resource officers. Take the time to have your CV or resume professionally written up before sending it off to the various offices. You only get one chance for a first impression. Make sure that you highlight any maritime or navy experience and courses as these will push your CV to the head of the line. It also helps if you have completed courses in maritime safety and operations.
In the current economic climate, you still have an excellent chance of securing a job. Oil rig careers are lucrative and with the right skills and qualifications you could be earning an above average income in a very short space of time. So long as you have the personality, mental toughness and physical strength to endure weeks on end in an isolated and sometimes dangerous environment you stand a good chance of making a success of your oil and gas industry career. Successful employees are generally the ones who have the most knowledge of where to look and how to apply for oil industry jobs. Be sure to get the latest information about availability of position as information travels fast and you need to be in the "know" to have the best chance of securing your oil field job.
To find more information on how you can land a great job on an oil rig check out: job oil rig at Hunter Recruitment. You will find great resources to help you find a job in the oil and gas industry written by people who have actually worked on oil rigs themselves. Visit http://www.hunterrecruitment.co.za/petrochemical.htm for the latest jobs in the oil and gas industry.
Be the best chemical engineer you could be. Learn something about chemical engineering that's not inside your textbook. Subscribe to the content of this blog.

Labels: Chemical Engineer, Chemical Engineering, Oil and Gas
posted by Kipas Repair JB @ 10:07 PM,

2 Comments:
At Friday, March 27, 2009, said...

Interview Tips

*Don't come to the interview drunk and then proceed to pass out

*Don't bring your mom, children or pets

*Tell your interviewer how you love to sing opera, then bust out signing acapella

*Don't tell any racist jokes

*Do not submit an "Impossible is Nothing" type video resume (if you don't know what we are talking about please Google it…it is quite entertaining)

At Friday, November 06, 2009, gate valves said...
The Author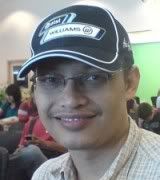 I'm Zaki. I used to be a project, process and chemical engineer. Few years ago I successfully became a Chartered Engineer (IChemE) and Professional Engineer (BEM). I'm now employed as a chemical engineering educator/researcher/consultant. Hope you like reading my blog. I welcome any feedback from you. My email: zaki.yz[alias]gmail.com. TQ!