I must say that I'm very interested and excited with renewable energy topics. I personally think it is something that everybody should know, learn and apply them at home. I would like to see my house powered with solar energy. By adopting solar energy, I can reduce my household power cost (electrical utility). Here's a basic explanation of how your solar panels will work when they are on your home. This video answers the question, "How is solar energy used?"The video is short (just 1 minute).


Labels: Energy, Environmental
posted by Kipas Repair JB @ 11:26 PM,

3 Comments:
At Sunday, April 05, 2009, TT said...

At Wednesday, April 08, 2009, Chemical Exporter said...

At Friday, April 10, 2009, Dana said...
The Author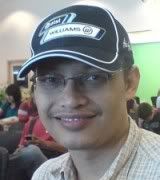 I'm Zaki. I used to be a project, process and chemical engineer. Few years ago I successfully became a Chartered Engineer (IChemE) and Professional Engineer (BEM). I'm now employed as a chemical engineering educator/researcher/consultant. Hope you like reading my blog. I welcome any feedback from you. My email: zaki.yz[alias]gmail.com. TQ!