Chemical Engineering Career You Can Expect...It's Your Choice...Part 2

1. Research & Development / Post Graduate Study in a University....

This is the first thing i did after graduating. I became a research assistant under a very succesful profesor (Prof. Dr. Nor Aishah Saidina Amin) specializing in Raction Engineering/Catalysis. The research group was called: "Chemical Reaction Engineering Group" or CREG. CREG is based in Faculty of Chemical and Natural Resources Engineering, Universiti Teknologi Malaysia.

When i first started, the group consists of 2 pH.D students and 2 masters student besides several first degree student doing research related to Natural gas to gasoline conversion and also palm oil to gasoline conversion using zeolite ZSM-5 catalysts. Well, as i mention to you guys earlier, i don't really know what are the jobs nature for a chemical engineer, and it includes the job as a research assistant. Well, in general i know a research assistant will assist in doing some research. But, as days go by, i deeply understand the nature of research work. Well, after about 6 months, i continued with my full time research Masters in Chemical Engineering.

Let me tell you what research people do in general.....point by point....not in particular order.....
(my point is totally based on my experience....it maybe partially useful for anyone who wants to do reseach, and can be very useful if you want to do research relating to catalysis and reaction engineering)

> Do research on the subject that you study in. Get technical papers from internet and library and other sources available at your university. One of the place where i get my technical papers >>>> www.sciencedirect.com
Some, of them i got it from the library in my uni. Some of them, i have to go to National University of Singapore to get more technical books and references.....Well, i have a mass collection of this technical papers and books....I have both hard copy and soft copy....hu hu....

> Create / build your experimental rig .....This is quite fun....especially if you're handy and creative...

> Synthesize catalysts.....it took me 7-8 days to synthesize 1-2 grams of catalysts !!!!

> Characterize catalysts.....Using XRD, SEM, FTIR, TPD etc.......

> Run experiment at your rig .... I did experienced runing my experiment 24 hours .....

> Publish technical papers, technical posters ....ooo i love this part.....

> Participate in technical exhibitions in and outside the country....depending on your budget....

> Present technical papers, technical posters ......i enjoyed this one too....

> Guide/supervise your juniors if there is....They can help you do some stuff too....

> When for some technical visit....This is fun too, you get to travel and learn...

> Undergo your first stage post graduate proposal......Hopefully i pass this one....

> Prepare for your VIVA - Final exam. This is where you defend your research ....the terrfying moment.....

I'll elaborate about the points in 1-2 days time....ok....



posted by Kipas Repair JB @ 8:13 PM,

3 Comments:
At Sunday, September 03, 2006, Ashok said...

At Sunday, September 03, 2006, Ashok said...

Zaki

Are there any other blogs related to engineering that you know of? We could then exchange links with them as well and make a sort of engineers ring of blogs.

At Wednesday, September 06, 2006, Kipas Repair JB said...
The Author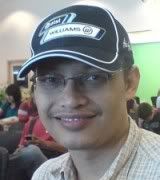 I'm Zaki. I used to be a project, process and chemical engineer. Few years ago I successfully became a Chartered Engineer (IChemE) and Professional Engineer (BEM). I'm now employed as a chemical engineering educator/researcher/consultant. Hope you like reading my blog. I welcome any feedback from you. My email: zaki.yz[alias]gmail.com. TQ!