Chemical Engineering Career You Can Expect...It's Your Choice...Part 3

..
This is the continuity of the previous posts...

> Do research on the subject that you study in. Get technical papers from internet......(check out the previous posts....)

> Create / build your experimental rig .....This is quite fun....especially if you're handy and creative...i constructed my own experimental rig which consists of a small 'carbolite' tubular furnace which has a maximum temperature of 900oC. Also i have 2 digital mass flow controler fixed as well on the rig. It's used to control the flow of CH4 and O2 in the 1/2" quartz reactor.

> Synthesize catalysts.....it took me 7-8 days to synthesize 1-2 grams of catalysts !!!! Characterize catalysts.....Using:

X-Ray Diffraction (XRD) : to study the crystalinity of the zeolite. We will know what type of zeolite it will belong.
Scanning Electron Microscopy (SEM) : to study the surface morphology of the zeolite catalyst.
Fourier Transform Infra Red (FTIR) : to study what type of chemical bonding is available in the zeolite catalyst.
Temperature Program Desorption (TPD) : to study the active acid sites on the zeolite catalyst
Atomic Adsorption Spectroscopy (AAS) : to study the composition of metals available in the zeolite catalyst

> Run experiment at your rig .... I did experienced runing my experiment 24 hours ....normally it took 8 hours to run one experiment. After arranging the experiment according to design of experiment (DOE) using the response surface methodology (RSM), i have an arrangement of different flowrate of gases to control, different mass of zeolite catalyst and also different operating temperature.

> Publish technical papers, technical posters ....ooo i love this part.....I published several technical papers in various local conferences and one conference in Indonesia. I have one paper published in a refereed journal as well. hu hu....Thanks to my supervisor who always encourage all of us to do technical writing. This palys a major part if anyone want to pass their post graduate study easily....

> Participate in technical exhibitions in and outside the country....depending on your budget....Well i went to some local exhibitions. It's great to be out there. We are exposed to tonnes of other research activities. Besides exhibiting, it's also a contest and our research group won several times...!!! hu hu....

> Present technical papers, technical posters ......i enjoyed this one too....When i attend some technical conferences, i presented my technical papers to related fellow researches from the same field. We exchange ideas and discuss various things. The location of the conference will always be in a 5 start hotel...which means the food is great!!! hu hu....


> Guide/supervise your juniors if there is....

They can help you do some stuff too....from this we have some "human resource"...they can help us a little bit....and at the same time we guide them doing the research work. It's a actually a synergy process...



> When for some technical visit....

This is fun too, you get to travel and learn...we went to few research center to coorporate and learn more and do some joint venture....this is great too....we can see some other research centre which are more establish and have better research facilities.
> Undergo your first stage post graduate proposal......

Hopefully i pass this one...and yes, i passed...with some minor modifications on the research methodology.
> Prepare for your VIVA - Final exam. This is where you defend your research ....

the terrfying moment..... and i can remember how sweat i was that time. I was very nervous ...but Thank God i passed the VIVA....
Check out >>> Chemical Reaction Engineering Group Website HERE
posted by Kipas Repair JB @ 11:25 PM,

0 Comments:
The Author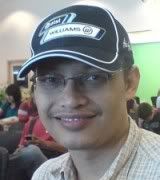 I'm Zaki. I used to be a project, process and chemical engineer. Few years ago I successfully became a Chartered Engineer (IChemE) and Professional Engineer (BEM). I'm now employed as a chemical engineering educator/researcher/consultant. Hope you like reading my blog. I welcome any feedback from you. My email: zaki.yz[alias]gmail.com. TQ!