I worked in a physical refining plant and currently take care of a big plant. Before this, the plant is always taken care by two executives/engineers. Now, my senior colleague (we took care of the plant together), Mr Jomani is going to leave because he was awarded a very damn good offer from a foreign company. The payment is a lot too. I'm not really sure, but my guess is that he is going to be paid 4 times what he is earning in this company. What I want to highlight here is everything about him. And I'm going to take care of the plant alone now.

All this while he has been my senior, mentor, guru, collegue, etc....you name it.....He is very good in almost every technical aspect in the edible oil industry. He managed to take a very good care of the plant and has help improved the plant production capacity/upgrading from less than 2000 tonnes/day to about more than 3000 tonnes per day. He has been working in the present factory/plant for almost 13 years. And in the industry for almost 30 years....i guessed....

What impressed me most is his educational background. He is not a graduate. He does not have any certificate. He's only education is the high schoole/secondary school. He started to work in a factory not as an operator but as a cleaner (this is what i was told, i'm sorry if i'm wrong). During work, he saw plant operators operating the plant and became interested. He quitely learned and he became a plant operator. He was deligent and he was promoted to become shift leader and later supervisor. Soon, he was offered a better and more challenging job in the place where I'm working now as a production executive (a title where it is usually offered to graduate engineer). Later he forced himself to become a senior production executive. And now, he is going to be a very important person in the new company that he will work for.

How can he became like that? It's the attitute, hardwork, dedication, determination and most importantly the willingness to keep learning and learning. Although he was only a high school leaver, but he managed to become better that a practicing chemical engineer. He forced himself to converse in English. He did mentioned to me he took an intensive course to learn English. He practice and learn computer skills to do reports etc. He learn management skills etc. He learn all the neccesary technical stuff. He learned about pressure, temperature, flow rate, vessels, boilers, cooling towers, piping, PLC, control system, NPSH and hell lot more...all from his exposures and experiences. Huhh.....what a fantastic person he is....Later, i planned to intereview him. I hope i can do so, and published it inside here. All for us to benefit from it....
posted by Kipas Repair JB @ 8:12 PM,

0 Comments:
The Author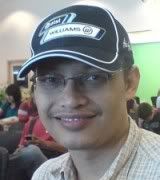 I'm Zaki. I used to be a project, process and chemical engineer. Few years ago I successfully became a Chartered Engineer (IChemE) and Professional Engineer (BEM). I'm now employed as a chemical engineering educator/researcher/consultant. Hope you like reading my blog. I welcome any feedback from you. My email: zaki.yz[alias]gmail.com. TQ!