Today, I went to MAHA EXPO 2006 (Malaysia Agriculture Holticulture Agrotourism) which was located in MARDI (Malaysian Agricultural Research and Development Institute), Serdang, Selangor, Malaysia. Well, I went there not for official business, but rather gathering some information and adding up some new and fresh knowledge inside my brain cell about the agro-bio industry. There were thousands of people pouring into the exhibition which is the largest in Asia. It was very difficult for me to walk my way through the exhibition booth. I learn some new technology on growing some crops, got myself some info about the available loans and supports for interested parties who want to developt the agricultural business, and lots of more informations. It's basically a growing exciting sector to venture. On overall, i can say that MOHA 2006 is a very brilliant event conducted by the Malaysia's Ministry of Agriculture (MOA), but it definitely need to improve few things such as handling such a huge gigantic visitors and directions etc.

Subscribe to this blog to get updated with various chemical engineering and personal experience info/sharing...subscribe link on the side bar or at the bottom of this page
posted by Kipas Repair JB @ 2:21 AM,

0 Comments:
The Author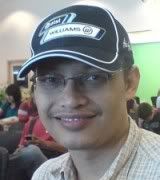 I'm Zaki. I used to be a project, process and chemical engineer. Few years ago I successfully became a Chartered Engineer (IChemE) and Professional Engineer (BEM). I'm now employed as a chemical engineering educator/researcher/consultant. Hope you like reading my blog. I welcome any feedback from you. My email: zaki.yz[alias]gmail.com. TQ!