I love attending training. I don't care what type of training because I can learn new things and skills. Since I work, I have attended various in-house and outside training as well as other free and paid seminars.

Among the things/new knowledges that I have learned so far are:

- Bleaching earth - chemical composition of the silica alumina solid bleacher...
- Cooling tower/boiler chemical treatment - technique, monitoring, dosing etc...
- Instrumentation/flow meter for plant - Various flow meter principles...
- Preventive maintenance - Need to organize this to avoid expansive downtime....
- Air compressor operation - They have a better improved compressor....
- Chiller operation - ooo..they use that type of freon as refrigerant...
- Shortening plant - Now I know how they make margerine...
- Load cell - Never knew about the technology behind weighing various objects....
- ISO and HACCP training - Now, I'm an internal auditor...
- Lean-Kanban - I learn to improve my working system...
- TQM - There's a lot of other quality system in TQM....
- GC - I learn how to operate a gas chromatograhy hands on
- Helicopter Underwater Escape Training (HUET)- physically challenging training for going offshore...

Well those are just few of hundreds of formal and informal training I have been through. That's why training/seminar is important to develop employees skills and knowledge.

Another good thing that I like when attending training/seminar: "We get souvenirs". So far, I have collected a lot of gives and souvenirs such as pens, t-shirts, note books, key chains, cap, diaries, calenders, mugs, and much more. It's good to get free stuff....isn't it?

*************************************
Coming trainings...

Talking about training, I received an email from Expitris.com (a local training consultant). They will be organizing a training in a few months time. Check out the details below:

Title: "Value Stream Mapping" (Kuala Lumpur, Malaysia)
Date: "2nd - 3rd July'07
Venue: Melia Hotel, Kuala Lumpur,
This program is conducted by an outstanding international trainer Mr. Michael Wader he has an astonishing experience in deploying VSM tools

"Excellent Delivery, Mike is an outstanding trainer, he is very direct when it comes to implementing all the VSM tools. Well Done.!"
Production Manager, Renesas Semiconductor (M) Sdn Bhd

This Program is HRDF Claimable
Note: 10 % discount is applicable if you mention you are a visitor of this Chemical Engineering World blog.

In case you want to contact them for further detail...:
Expitris Worldwide Sdn Bhd (641332-X)
Suites 14-02, Wisma Cosway, Jalan Raja Chulan,50200 Kuala Lumpur, Malaysia
Tel : ++603 - 2072 2233 Fax : ++603 - 2072 2211 www.exww.com / www.expitris.com
Email: expitris@exww.com

*************************************

On top of the above training, I also received another free training invitation from National Instrument - LabVIEW.

LabVIEW Hands-On Seminar in June 2007
(Johor, Malaysia)

Synopsis
Discover the power of National Instruments

LabVIEW

™ the graphical development environment used by engineers and scientists in virtually every industry. Gain hands-on experience with LabVIEW and learn how LabVIEW graphical development helps you reduce development time and create flexible applications that easily integrate with a wide variety of I/O, getting you to your solution faster.
Don't miss this opportunity to find out more about this software that is revolutionizing test and measurement, data acquisition and control and process monitoring.

Date: 6 June 2007, Wednesday
Time: 2.00pm - 5.00pm
Venue: Sofitel Palm Resort
Allamanda 1 (Club House)
Off Jalan Jumbo
Senai, Johor 81250
Seminar Highlights
- Create a complete LabVIEW application from start to finish
- Develop flexible data acquisition solutions and learn about motion control and machine vision applications
- Control traditional IEEE 488 (GPIB) or serial instruments with LabVIEW instrument drivers
- Connect your application to the network to share information throughout your enterprise and across the Internet
- Use LabVIEW built-in analysis functions including signal processing, filtering, and curve-fitting
- Control a LabVIEW application across the Web - without any additional programming
- Explore various LabVIEW modules and toolsets that boost your productivity, including a test management environment, database connectivity, data logging, and real-time software
- Use the latest technologies, including ActiveX, XML, and multithreading, in your applications

3 Easy Ways to Register
1. Online Registration >> Click here
2. Contact us at Toll Free 1800-887710 or (603) 2070 7710
Name
Company
Tel/ Mobile
Email (if not on cc list)
For further info/inquiry, just contact them:
Toll-Free: 1800-887710
Fax: (603) 2078 7710
Email: asean.events@ni.com
Website: ni.com/asean
Enjoyed this post? Subscribe to CHEMICAL ENGINEERING WORLD by email.
Or you can also Subscribe to CHEMICAL ENGINEERING WORLD by RSS.
Labels: Learning Curve, Seminar, Training
posted by Kipas Repair JB @ 7:10 PM,

0 Comments:
The Author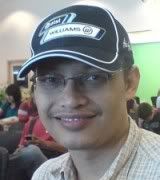 I'm Zaki. I used to be a project, process and chemical engineer. Few years ago I successfully became a Chartered Engineer (IChemE) and Professional Engineer (BEM). I'm now employed as a chemical engineering educator/researcher/consultant. Hope you like reading my blog. I welcome any feedback from you. My email: zaki.yz[alias]gmail.com. TQ!