I received an email from events-asia@citect.com informing about a Tech Update Seminar that will be held soon (see far below).

In case you are not familiar with Citect, here's a brief introduction:

Citect is the leading global provider of industrial automation, facilities automation, real-time intelligence, & next generation manufacturing execution systems (MES). Citect has been providing global business solutions, engineering services and software to the automation market for over 30 years. Specializing in the delivery of innovative, reliable and cost effective solutions, Citect connects people in business and industry to real-time information in ways that improve business strategies and decisions. My plant is using Citect control system.
The email I received from events-asia@citect.com:
Citect Asia will hold a series of complimentary Tech Update seminars across SE Asia in late June, early July.
We will also be launching the Citect Asia Users Group at the Tech Update. The Citect Asia Users group will provide an important environment for users of Citect products to exchange ideas, obtain assistance on technical and management issues, and keep abreast of new product developments.
As seats will be limited at all locations, I am attaching preliminary details of dates and locations. Reservations can be made by emailing your name and the preferred seminar date to:
Please take advantage of this advanced notice to reserve your place now and avoid disappointment.
Yours Sincerely
Michael Preston
Business Development Director, South East Asia
Citect Pte Ltd
Singapore
Tel +65 6482 2212
Fax +65 6482 2252
www.citect.com
Enjoyed this post? Subscribe to CHEMICAL ENGINEERING WORLD by email.
Or you can also Subscribe to CHEMICAL ENGINEERING WORLD by RSS.
Switch link with this blog? Email me or drop a comment. Your site should be related to Chemical Engineering.
NEW!!! Check Out:
Chemical Engineering Conference
Chemical Engineering Business
Chemical Engineering Associations
Labels: Chemical Engineering, Control System
posted by Kipas Repair JB @ 12:32 AM,

0 Comments:
The Author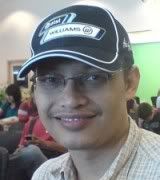 I'm Zaki. I used to be a project, process and chemical engineer. Few years ago I successfully became a Chartered Engineer (IChemE) and Professional Engineer (BEM). I'm now employed as a chemical engineering educator/researcher/consultant. Hope you like reading my blog. I welcome any feedback from you. My email: zaki.yz[alias]gmail.com. TQ!