Why share your copy - when they can get their own?
Tell your colleagues to start their own FREE Subscription.
— Does your copy of PipeLine and Gas Technology look like it's
traveled thru an oil and gas pipeline on its way to your desk?
— Do you find yourself retrieving your latest copy from
a colleague's desk?
— Or... perhaps you'd like to promote yourself off the bottom
of the routing list -- to the top that is?
The answer is simple... get your own... or, better yet, have your colleagues get their own subscription to PipeLine and Gas Technology.

http://www.submag.com/sub/pb?pk=E75PPA
We know each and every issue of PipeLine and Gas Technology contains crucial, cutting-edge reporting of the solutions, applications and technolgies being employed in the pipeline industry. And, we know ALL your colleagues would benefit from PipeLine's uniquely styled, how-to approach to discussing the issues you and other pipeline professionals face every day.
But... did you know that PipeLine and Gas Technology is offered free of charge to all pipeline industry professionals?
That means ALL your colleagues can have their very own subscription. That's right... all your colleagues. So... if you or someone in your office would benefit from receiving PipeLine and Gas Technology for themselves, simply, forward this email and ask them to click the link below. It will only take a few minutes and, you won't ever have to track down your copy again.

http://www.submag.com/sub/pb?pk=E75PPA
Audrey Miller
Circulation Director
PipeLine and Gas Technology
PO Box 2101, Skokie, IL 60076-7801
www.pipelineandgastechnology.com
Enjoyed this post? Subscribe to CHEMICAL ENGINEERING WORLD by email.
Or you can also Subscribe to CHEMICAL ENGINEERING WORLD by RSS.
Switch link with this blog? Email me or drop a comment. Your site should be related to Chemical Engineering.
Labels: Learning Curve, Oil and Gas
posted by Kipas Repair JB @ 12:45 AM,

0 Comments:
The Author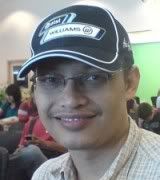 I'm Zaki. I used to be a project, process and chemical engineer. Few years ago I successfully became a Chartered Engineer (IChemE) and Professional Engineer (BEM). I'm now employed as a chemical engineering educator/researcher/consultant. Hope you like reading my blog. I welcome any feedback from you. My email: zaki.yz[alias]gmail.com. TQ!