Slowly guess what this item is. If you scroll quickly, you'll miss the suspense in guessing what the equipment is.

a: Motor - the bearing has broken. It's vibrating.
b: Blade holder removed from the motor using hydraulic clamp
c: Blade holder
d: These are the blades
e: Looks like a fan
f: It's a cooling tower fan...
Did you guess correctly??
Enjoyed this post?
Subscribe to CHEMICAL ENGINEERING WORLD by email.
Or you can also
Subscribe to CHEMICAL ENGINEERING WORLD by RSS.
Want to switch link with this blog? Email me or drop a comment. Your blog/site should be related to Chemical Engineering.
Labels: Chemical Engineering, Cooling Tower
posted by Kipas Repair JB @ 8:00 PM,

0 Comments:
The Author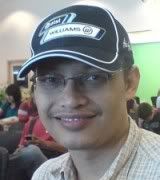 I'm Zaki. I used to be a project, process and chemical engineer. Few years ago I successfully became a Chartered Engineer (IChemE) and Professional Engineer (BEM). I'm now employed as a chemical engineering educator/researcher/consultant. Hope you like reading my blog. I welcome any feedback from you. My email: zaki.yz[alias]gmail.com. TQ!