This is an interesting story about a young man who chooses Chemical Engineering just because he find it difficult to be a ballet dancer. When I read this article, I just can't believe it. He made chemical engineering look so easy. For me, going through my first degree was tough especially my first year! Do you find Chemical Engineering difficult? Read the article below that was written by DANIELLE SHAPIRO from HERALD NEWS adopted from NorthJersey.com.

WAYNE – Craig Dana spent years as a touring ballet dancer. But that was too hard, so at 22 he decided to try something a little easier: chemical engineering.
......Wayne native Craig Dana graduates Rutgers with an A average and full scholarship to the University of California-Berkeley to pursue a graduate degree in chemical engineering......
"It's the hardest thing I've ever done," Dana said of ballet while sitting in his parent's Wayne living room. His body ached all the time, he was constantly nursing injuries and rehearsals and performances were grueling. "Compared to ballet, engineering was relatively simple. In the end, you're just sitting there with a book in front of you and you have to put in the time studying."
Now 25, Dana will graduate Rutgers on Thursday with a 4.0 grade point average, a full scholarship to pursue a post-graduate degree at the University of California-Berkeley and, according to his girlfriend, Lisa Lomovasky, 24, a revelation.
"I knew he was smart ... I didn't know what he was capable of; it's shocking," she said. (READ MORE)

Enjoyed this post?
Subscribe to CHEMICAL ENGINEERING WORLD by email.
Or you can also
Subscribe to CHEMICAL ENGINEERING WORLD by RSS.
Switch link with this blog? Email me or drop a comment. Your site should be related to Chemical Engineering.
NEW!!! Check Out:
Chemical Engineering Conference
Chemical Engineering Business
Chemical Engineering Associations

Labels: Chemical Engineering, News, Study
posted by Kipas Repair JB @ 2:29 AM,

2 Comments:
At Friday, May 18, 2007, Webworm said...

Zaki,
Young people is always ideal, enthusiastic, full of dreams...but we have to admit that we need these peoples for new ideas, revolution, better world, etc (of course there are some exception case)...don't you agree ?

Let see his contribution to the human societies...

At Friday, May 18, 2007, Kipas Repair JB said...
The Author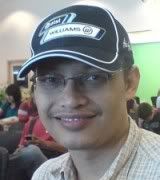 I'm Zaki. I used to be a project, process and chemical engineer. Few years ago I successfully became a Chartered Engineer (IChemE) and Professional Engineer (BEM). I'm now employed as a chemical engineering educator/researcher/consultant. Hope you like reading my blog. I welcome any feedback from you. My email: zaki.yz[alias]gmail.com. TQ!