What you can see in the photo is a cooling tower deck. This is where warm cooling water from processing plant arrives. The warm cooling water will then be evenly distributed on the light blue colour FRP (Fiber Reinforced Plastic) deck by a water distributor. The warm cooling water will then falls underneath the deck through the target nozzle holes. You can see there are plenty of small black round shape holes on the deck. The target nozzles are important to sprinkle the water before it goes further down to increase its surface area (I'll show and explain about target nozzle in future post). The warm cooling water will then be sprayed over a fill in the cooling tower to increase the contact area, and air is blown through the fill. Majority of heat removed from the warm cooling water is due to evaporation. The remaining cooled water drops into a collection basin and is recirculated to the plant (for chiller or heat exchanger). Typically, the temperature drop is 10oC.


Enjoyed this post? Subscribe to CHEMICAL ENGINEERING WORLD by email.
Or you can also Subscribe to CHEMICAL ENGINEERING WORLD by RSS.
Labels: Chemical Plant, Cooling Tower, Process Parameters
posted by Kipas Repair JB @ 8:17 PM,

0 Comments:
The Author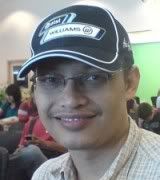 I'm Zaki. I used to be a project, process and chemical engineer. Few years ago I successfully became a Chartered Engineer (IChemE) and Professional Engineer (BEM). I'm now employed as a chemical engineering educator/researcher/consultant. Hope you like reading my blog. I welcome any feedback from you. My email: zaki.yz[alias]gmail.com. TQ!