Today I received a letter from Genetic Engineering & Biotechnology News, which is based in New York. Actually, I'm a subscriber of their GEN magazine which is published every two weeks. They send me a hard copy magazine. Well, genetic engineering is not closely related to chemical engineering, but I subscribe the magazine to get some input from other engineering branches. At least I learn something about DNA, RNA, peptide, protein, drug, bioprocessing, biobusiness etc. It's enriching and sometimes confusing to know those tiny, minute, mysterious DNA-RNA stuff.

Back to the letter story. They send me a letter and I opened the envelop. I saw $2 and I'm surprised! I read the title of the letter and it said, "We need your help to measure the value of our publication. Your opinions will allow us to publish an even better resource for you!".

The P.S. was written in red: Please accept the enclosed $2 as a token of our appreciation for your help.

Enclosed in the letter is a 4 pages of "Confidential Survey of our Subscribers". I have not yet fill the survey but I'm going to do it tomorrow.

They provided me with a Business Reply Mail envelop (to be sent to Lewis and Clark Research, US), but I have to pay for the postage because I'm mailing from outside US. On the top right conner on the envelop it is printed: "No postage necessary if mailed in the United States".
Hmmm....I guess, It's OK. I don't mind paying for the postage. However, I think, they should make international reader like me to be excluded from paying for the postage next time. Or is the $2 cost for the postage?
You can check out and get free subscription of GEN magazine online (if you're interested) at
www.genengnews.com
.
Enjoyed this post? Subscribe to CHEMICAL ENGINEERING WORLD by email.
Or you can also Subscribe to CHEMICAL ENGINEERING WORLD by RSS.
Labels: Biology, Biotechnology, Learning Curve, Magazine, News
posted by Kipas Repair JB @ 1:24 AM,

0 Comments:
The Author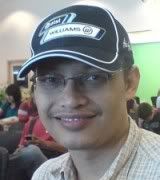 I'm Zaki. I used to be a project, process and chemical engineer. Few years ago I successfully became a Chartered Engineer (IChemE) and Professional Engineer (BEM). I'm now employed as a chemical engineering educator/researcher/consultant. Hope you like reading my blog. I welcome any feedback from you. My email: zaki.yz[alias]gmail.com. TQ!