As promised, I'll share some informations about target nozzle which is among vital parts of a cooling tower. A target nozzle looks like the photo beside. That is a "Counterflow Nozzle Orifice" (sizes available from 1/2" - 1 1/2). A target nozzles function is to sprinkle the warm cooling water to increase its surface area (for heat transfer with air) before it goes down from the deck to the water basin. It is usually an injection molded polypropylene unit consisting of two parts—the main body with integral target diffuser and a snap-on insert or orifice cap. A cooling tower deck may have up to 200 or more target nozzles.

All this while I only know this type of target nozzle. After researching in the internet, I found there are various other types of target nozzles.

The first type (left) is a Counterflow Nozzle - 2" NPT Thread, (Orifice sizes 1/2" - 2"); the second (mid) is the a counter-flow down-spray nozzle; Square-Pattern, Full Coverage Type, 1-1/2" Standard Pipe Thread Connection; and the third (right) is a counter-flow up-spray Nozzle, fits 1-13/16" Diameter Hole in PVC pipe. There are more types of target nozzles at CoolingTowerNozzles.com.
To learn more about target nozzles, check out the following sites:
spxcooling.com
ceshepherd.com
coolingtowerresource.com


Enjoyed this post?
Subscribe to CHEMICAL ENGINEERING WORLD by email.
Or you can also
Subscribe to CHEMICAL ENGINEERING WORLD by RSS.
Labels: Chemical Engineering, Cooling Tower, Learning Curve
posted by Kipas Repair JB @ 10:40 PM,

0 Comments:
The Author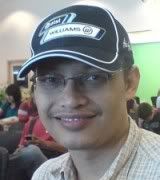 I'm Zaki. I used to be a project, process and chemical engineer. Few years ago I successfully became a Chartered Engineer (IChemE) and Professional Engineer (BEM). I'm now employed as a chemical engineering educator/researcher/consultant. Hope you like reading my blog. I welcome any feedback from you. My email: zaki.yz[alias]gmail.com. TQ!