During the previous shut down, I got myself to become more hands on. Why? You can read this entry to know why in case you haven't read them.

There are lot to learn from a simple bolt and nut. There are various problems and difficulties that we can possibly encounter from a pair of bolt and nut. Followings are few things that I have learned from that small item (which are inclined to maintenance)...

1. If you over tightened those bolt and nuts, you might have some difficulties to open it later in
future. If things get worse, the bolt and nuts can break. If it breaks, it will be difficult to open/dismantle the flange. In certain cases, you need to cut those bolt or nuts using oxy-cutting. However, we can only use oxy-cutting for bolt and but made from mild steel or GI. Stainless steel bolt and nut normally don't have any problem to be loosen because they do not corrode/rust.
Morale: Do not over tighten the bolt and nut. Just tighten it according to your normal human power.

2. Over paint... Sometimes you paint the bolt and nut for certain reason. One popular reason will be to avoid rust. One problem that our team faced during the previous shut down is to unscrew the nut. Oh my God, it was very tough because the paint covering the bolt and nut was so thick. We applied paint remover but still the stubborn paint would not completely removed. As a result, we took about 3 hours just to remove an 8" flange with 8 bolt and nuts. This affected our time and productivity.
Morale: do not over apply the paint.

3. Unsuitable length or size of bolt and nut. There were cases where we lost some bolt and nuts due to some slight work inefficiencies. When we want to replace them, we need to get suitable bolt and nuts. A shorter bolt will be required for a simple flange. However, a longer bolt will be required to sandwich a check valve between flanges.
Morale: Use the correct size and material of bolt and nut.

4. Grease the bolt and nut. After removing the bolt and nut from a flange, it's better to clean them if there are any debris or rust. Then apply grease to avoid rust and to ease screw and unscrew of it.
Morale: Get a cup of grease and ask your operator/fitter/worker to apply the grease.


5. Ensure there are sufficient stock of bolt and nuts. During a shut down or turn around, we normally dismantle flanges and manhole to clean vessel, pipeline, distillation column, deodorizers or others. Sometimes, a small number of those bolt and nuts broke and they need to be replaced. We must have ample stock of the correct bolt and nuts so that we can smoothly connect the flanges or close manholes.
Morale: Ensure your store has sufficient stock of the required bolts and nuts.

6. Tightening the bolt and nut. When tightening the bolts and nuts, we need to criss cross the arrangement. Normally a flange will have 8 holes for the bolts. Commence with 12 o'clock, followed by 6 o'clock. Then tighten 3 o'clock followed 9 o'clock and so on. This will ensure even compression towards the gaskets when we tightened the nuts.
Morale: Do it patiently and correctly. If not, the system may leak and we'll get in trouble (that is if we don't do
a steam or air test before starting the plant).

7. Prepare the correct size of spanar. It's a waste of time if we don't use the correct size of spanar to unscrew a nut from a bolt. Ensure you have the correct spanar size. If you are want to unscrew a nut of size 24, use spanar size 24. If you want to use an adjustable spanar, use the one that is closer to the size range. Do not use an adjustable spanar which is too big. If you use an over size adjustable spanar, you will get tired pretty fast or you might trigger an accident.
Morale: Ensure you have the correct size of spanar when dealing with bolt and nut.

-----------------------------------------------------------------------------------------------------------------
Sales Training For Engineers & Techies.
Manuals On How To Sell Technical Products And Services, Find New Clients Or Hire An Effective Technical Salesperson.
Labels: Chemical Plant, Corrosion, Equipments, Experience, Learning Curve, Plant Shutdown, Problem
posted by Kipas Repair JB @ 12:39 AM,

2 Comments:
At Monday, May 26, 2008, said...

Hi
I was very much helped by the information with this article.
Many thanks at you very fascinating resource.

Bye

At Monday, May 26, 2008, Kipas Repair JB said...
The Author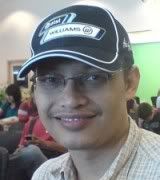 I'm Zaki. I used to be a project, process and chemical engineer. Few years ago I successfully became a Chartered Engineer (IChemE) and Professional Engineer (BEM). I'm now employed as a chemical engineering educator/researcher/consultant. Hope you like reading my blog. I welcome any feedback from you. My email: zaki.yz[alias]gmail.com. TQ!