Yesterday, while doing some research on the internet, I came across some new terms/terminology: "Kerogen". I found that word while searching some information about "pyrolysis" in the famous Wikipedia. Curious on the term Kerogen, I click at the word and it brought me to a new Wikipedia page. OK, so the following is the description (adopted from wikipedia, off course...) :

Kerogen is a mixture of organic chemical compounds that make up a portion of the organic matter in sedimentary rocks.[1] It is insoluble in normal organic solvents because of the huge molecular weight (upwards of 1,000 Daltons) of its component compounds. The soluble portion is known as bitumen. When heated to the right temperatures in the Earth's crust, (oil window ca. 60°-120°C, gas window ca.120°-150°C) some types of kerogen release crude oil or natural gas, collectively known as hydrocarbons (fossil fuels). When such kerogens are present in high concentration in rocks such as shale, and have not been heated to a sufficient temperature to release their hydrocarbons, they may form oil shale deposits.

As kerogen is a mixture of organic material, rather than a specific chemical; it cannot be given a chemical formula. Indeed its chemical composition can vary distinctively from sample to sample. Kerogen from the Green River Formation oil shale deposit of western North America contains elements in the proportions C 215 : H 330 : O 12 : N 5 : S 1.

If you want further explanation, check out the wikipage. At least, yesterday, besides learning about Kerogen, I also learned several other words and terminology related to our discipline. Maybe you can also share some new words with us :) ....
-----------------------------------------------------------------------
Convert You Car To Burn Water + Petrol = Double Your Mileage!
High Conversion, Few Refunds, Due To Huge Demand: Soaring Gas Prices Compel People To Save Gas!!! Popular D.i.y Watercar: Run Your Car Partially On Water, Reduce Emissions/Global Warming! Practical Free Energy Based On 1000s Of Real Cars Worldwide!!!

Do you like to receive FREE Technical and Engineering magazines? If YES, check out Chem-Eng.Tradepub.com.

Join Chemical Engineer Rocks FACEBOOK Group...

Labels: Biofuel, Learning Curve, Research
posted by Kipas Repair JB @ 4:11 PM,

0 Comments:
The Author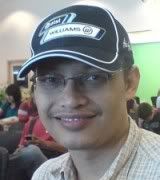 I'm Zaki. I used to be a project, process and chemical engineer. Few years ago I successfully became a Chartered Engineer (IChemE) and Professional Engineer (BEM). I'm now employed as a chemical engineering educator/researcher/consultant. Hope you like reading my blog. I welcome any feedback from you. My email: zaki.yz[alias]gmail.com. TQ!