As an engineer, I experienced a lot of sweet and enjoyable moment. I also did tasted some sad and bitter moments as well. I'm no longer experiencing them because now I'm no longer a practicing engineer. However, once in a while I still contact my fellow counterparts (engineers) and also visited few plants / projects under official duties as an academician / researcher / consultant, or as a member of the Institution of Engineers (IEM). This is to ensure my continuous engineering education and training relevant to the industry needs.


Reflecting to my passed experiences, I would like to share 3 of my sweet/best moments as a project engineer in the oil and gas field...

1. Visiting and working at offshore platforms

This is certainly one of the most valuable experience I ever have. I have visited and worked in a number of offshore plants which consists of Bekok C, Bekok A, Tiong A, Dulang B (mother platform), Dulang A, C and D (Satellite platforms), Angsi and a few more that I have forgotten. All of those platforms are located at offshore Kerteh, Trengganu. The fastest transportation is by helicopter. It took between 1 to 2 hours to reach the offshore platforms, depending on their distance. Taking a small ship/boat will took longer hours, more than 8 hours depending on the distance. Well, you can also swim if you want... but it may take you 2 -3 days...if you are not tired... ;) just kidding...

Besides performing my duties to test some of our chemicals performance with the crude oil, we experience the best of offshore life. It will be too long to jot down all the offshore excitements... However, I'll reveal a few of them...

Besides the good money, we also get very excellent 5 Star meals. I can consume basically whatever I want to eat or drink!!! For breakfast, I can have Nasi Lemak (Coconut rice), fried noodles, cereals like Coco Crunch, Corn Flakes, etc, pan cakes, toasted bread etc... I can have various options for beverages such as tea, coffee, milo, fresh milk, soya bean, fresh orange, apple juice, various kind of other juices, carbonated drinks, basically anything...accept alcohol...
for lunch or dinner, we are served with both traditional dishes and western dishes... for dessert, we can have various types of them which include: apple pie, ice cream, ABC, various cakes.... What more can I asked?!!! I'm enjoying my appetite and I put on my weight.

At night, after having dinner, we relaxed and watch TV/astro or movie... We also played snooker or ping pong or sometimes exercised at the gym. When we're exhausted, we just relaxed, read newspapers, or sat at the OSIM massage chair...

Do you think we washed our own coveralls / clothes / socks / underwear there? Hmm.... nope... We just put them all in a basket outside of our room in the morning or afternoon. At the end of the day, those things are well folded nicely on the basket :) . Cool stuff...isn't it?!!

However, one of the best moments being offshore is >>> enjoying the sunset on the boat while traveling from satellite platform to mother platform... the scenery is sooooo beautiful that I won't ever forget... What an experience...


2. Visiting and working at onshore oilfield

I have zero petroleum engineering knowledge and that's why I cannot really imagine how an onshore oilfield looks like (I know how the offshore platforms shape). My previous boss asked me to go to Banjarmasin, Kalimantan, Indonesia for a week to learn and assist our principal to conduct bottle test at Pertamina-Talisman onshore oilfield. The funny part is I acted as an Indonesian citizen to avoid bureaucracy complication. I have to adjust my slang to converse in standard Indonesian language and in meetings, I kept quite to avoid the managers and officers detect my true nationality.

It took me almost 2 days to travel to the oilfield. The route was: Johor Bahru - Batam - Jakarta - Surabaya - Banjarmasin - Tanjung (this is the location of the onshore oilfield). There, I noticed that the overall set up to pump oil from the earth is very simple compared to the offshore platform. What is required is only a "donkey" - that's what they call that type of pumping facility to pump out the petroleum. We took samples from it and tested the samples with our demulsifier and descaler chemical resins.

Was there any problem? Well, there's one but luckily it wasn't really a problem that we could not handle. It was almost like a threat. Want to guess? One of the officers there clearly asked for money. Without hesitation, he repeatedly asked for money day after day in order to let us have the project. Our team have anticipated that and we have our own people to handle him - not by giving him the cash he wanted, but ....

Overall, it was a very interesting experience for me working at Pertamina-Talisman... and one of my sweetest moment.


3. Traveling - Amazing Race Style

One of my non-engineering assignment was to collect a number of chemicals from our regional principal in Jakarta, Indonesia. As my wife had just delivered our 2nd baby that time, I don't want to spend a night in Jakarta. So, I planned to make a day trip from Johor Bahru - Jakarta - Johor Bahru.

As early as 7 am in the morning, I reached Stulang jetty where I took a boat to Batam Center. Took a cab from Batam Center to the airport. I took a flight to Jakarta, met my principal, relaxed a while. After that, I hunted for the earliest flight back to Batam. I said to the custom that the bottles I'm having contain herbal medicine (in actual it contains specialty chemicals). After landed at Batam, I took another taxi to Batam Center. Then I took a boat to Stulang jetty. Guess what? At 7pm, I was in Mcdonald Taman University, Skudai, Johor taking my first official meal of the day. It was quite an amazing experience, traveling such a distance below 12 hours - via land, sea and air!!!

Well, those are basically 3 of my best moments as an engineer in the oil and gas field. I have more wonderful moments but let's just have those above for now first. I liked the job very much and I'm very excited traveling here and there, locally and internationally. What about you? Maybe you can share some of your best moments...?

My very related post on the oil and gas arena, checked them out...:
Photo of the Day - Troll Platform
Photo of the Day - Safe Scandinavia
Photo of the Day - Buzzard Platform
Going Offshore
Going Offshore II
Going Offshore III
Going Offshore IV

-----------------------------------------------------------------------------------------------------------------


>>> FREE World Pump Magazine!!!

Sales Training For Engineers & Techies.
Manuals On How To Sell Technical Products And Services, Find New Clients Or Hire An Effective Technical Salesperson.

Do you like to receive FREE Technical and Engineering magazines? If YES, check out Chem-Eng.Tradepub.com.

Join Chemical Engineer Rocks FACEBOOK Group...
Labels: Chemical Engineer, Oil and Gas
posted by Kipas Repair JB @ 8:50 PM,

0 Comments:
The Author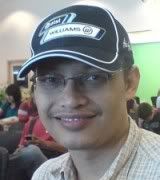 I'm Zaki. I used to be a project, process and chemical engineer. Few years ago I successfully became a Chartered Engineer (IChemE) and Professional Engineer (BEM). I'm now employed as a chemical engineering educator/researcher/consultant. Hope you like reading my blog. I welcome any feedback from you. My email: zaki.yz[alias]gmail.com. TQ!