Just to share some info / news that was delivered to my mailbox by PlantServices.com. It's actually a webminar (web seminar) that you can enjoy from the comfort of your home / office to learn about how to profit from ultrasound steam system inspection.

From the brief information provided, it mentioned how we can use ultrasound to inspect steam traps and valves which are very critical and important in a processing plant. I remembered how crucial the steam traps were when i was working in a production plant before. Whenever some steam traps fail to function and when the boiler unintentionally sent us wet steam, our vacuum pressure will drop and hence disrupt our product quality. We were forced to regularly monitor all steam traps in our 7 storey plant and maintain a checklist. Once in a while, i personally checked some of the steam traps using my bare hands.

I guess that's enough for my rambling. What I wanted to highlight here is actually the webminar organized by Plantservices.com. If you want to learn about it register yourself for the program. I don't think I can make it there due to other commitments. Read the rest of the information....

Presented by PlantServices.com
How to profit from ultrasound steam system inspection

Sponsored by: UE Systems
Content type: Webcast
Date: Thursday, September 25, 2008
Time: 12 PM ET/9 AM PT
Length: 60 minutes

This tutorial will demonstrate how to conduct an ultrasound steam trap and valve survey. Viewers will learn the basics of ultrasound technology followed by details, including sound samples of various steam traps in good and in failure conditions. Strategies for effective trap and valve survey preparation and methods of recording, analyzing and reporting results will be included, as well as how effective steam trap inspections help conserve energy and increase profitability!

»
Register Now
Featured Speaker: Douglas Waetjen - UE Systems, Inc.
Mr. Waetjen has been involved with ultrasound technology since 1986. He has lectured about the technology worldwide, written numerous technical articles, and has been instrumental in the program implementation of ultrasound for hundreds of companies. Mr. Waetjen is an active member of the Society for Maintenance and Reliability Professionals (SMRP) and is chairman of the Supplier Relations Committee for this organization. As a certified Level III, Mr. Waetjen teaches Ultrasound Level I and Level II courses. In addition to his efforts to educate and lecture, Mr. Waetjen is the director of worldwide sales for UE Systems, Inc.
© 2008 Putman Media Inc.
555 West Pierce Rd., Suite 301, Itasca, IL 60143. Phone: 630-467-1300
The content of this message is protected by copyright and trademark laws under U.S. and international law.
All rights reserved.
-----------------------------------------------------------------------------------------------------------------


>>> FREE World Pump Magazine!!!

Sales Training For Engineers & Techies.
Manuals On How To Sell Technical Products And Services, Find New Clients Or Hire An Effective Technical Salesperson.

Do you like to receive FREE Technical and Engineering magazines? If YES, check out Chem-Eng.Tradepub.com.

Join Chemical Engineer Rocks FACEBOOK Group...
Labels: Chemical Plant, Environmental, Processing., Seminar, Steam, Study, Technology, Training, Webcast
posted by Kipas Repair JB @ 8:33 PM,

1 Comments:
At Tuesday, February 10, 2009, said...

Hi

my question is based on below chemical equation.

Methanol + Toluene --> P-xylene + Water

Methanol + Methanol --> Ethene + 2Water

Since the conversion of the reaction is only 62%, there will be some unreacted methanol and toluene in the exit stream from the reactor. The problem is that, I can't come up with any idea on how to separate the four component (toluene, xylene, water, methanol). Xylene is the required product. Toluene and methanol need to be recycled.

I did discussed on my own group on how to separate those components but we are now stuck at the azeotropic characteristic of the mixture. I really hope for some practical and reasonable suggestion on how to deal with this problem.

Thanks.

email:teflon_xydar@yahoo.com
The Author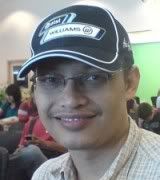 I'm Zaki. I used to be a project, process and chemical engineer. Few years ago I successfully became a Chartered Engineer (IChemE) and Professional Engineer (BEM). I'm now employed as a chemical engineering educator/researcher/consultant. Hope you like reading my blog. I welcome any feedback from you. My email: zaki.yz[alias]gmail.com. TQ!