The guessing game is finally over after the new Vice-Chancellor of Universiti Teknologi Malaysia (UTM) is elected. Datuk Prof. Dr. Ir. Zaini Ujang, 43, is officially the new Vice-Chancellor of UTM, replacing Tan Sri Professor Dr Mohd Zulkifli Tan Sri Mohd Ghazali, whose tenure ended on the 30th of September 2008.

Datuk Zaini, a chemical engineer, joined UTM in 1988. He was the director of the Water Resource and Environment Institute from 2001 to 2006 and promoted to deputy vice-chancellor last year.


More news:
NST
Bernama
Topix


Chemical Engineer Heads UTM
MALAYSIAN CHEMICAL ENGINEER Zaini Ujang has been appointed vice-chancellor of Universiti Teknologi Malaysia (UTM). The role begins immediately and lasts for three years. At the age of 43, he is billed as the youngest person to lead a Malaysian public university.
Zaini served UTM as deputy vice-chancellor for research and innovation from March 2007. Prior to that, he was dean of UTM's Faculty of Chemical and Natural Resources Engineering, beginning July 2006, and director of UTM's Institute of Environmental & Water Resource Management from 2001 to 2005.
On receiving the post, Zaini said: "I thank the government for being bold enough to appoint a relatively young person to the post of vice-chancellor. I will aim to improve the standard of higher education and implement the National Higher Education Strategic Plan." This aims to improve Malaysia's competitiveness, productivity and innovativeness.
Zaini received his undergraduate degree in chemical engineering at UTM, and went on to complete an MSC and PhD in environmental engineering at Newcastle University, UK. He began his academic career at UTM in 1988. He is lauded as a Malaysian expert in matters concerning water and wastewater treatment, and has held posts advising the government's education department.
News is adopted from
TCEToday
.
Labels: Chemical Engineer
posted by Kipas Repair JB @ 8:33 PM,

0 Comments:
The Author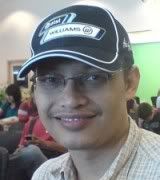 I'm Zaki. I used to be a project, process and chemical engineer. Few years ago I successfully became a Chartered Engineer (IChemE) and Professional Engineer (BEM). I'm now employed as a chemical engineering educator/researcher/consultant. Hope you like reading my blog. I welcome any feedback from you. My email: zaki.yz[alias]gmail.com. TQ!