Chemical Engineering Career You Can Expect...It's Your Choice. Part 4...

2. Service Engineer in an Oil & Gas field

After completing my masters degree, i was offered a job as a chemical application specialist/chemical technologist. But i call my self a chemical engineer...hu.. hu....This category of work is full of fun because i travel a lot (If you like travelling, you'll like this one...). I work on-shore and off-shore......hu hu...it's fun....

It actually began when a friend of mine was asking..."hey...do you have a job?" She asked me that because I was completing my masters degree, and she guessed that i might want to seach for a work. Well, I said..."yeah...sure...I haven't got a job yet. Infact I'm still searching and applying for jobs via the internet." Then, she told me the offer. And to cut short everything and after being interviewed by the company's top management, i got the job.

Immedietly after that, i was asked to join the team to go to Kerteh, Trengganu to handle a project. It's a new job in a new place and new working environment. I went to the site with a group of people. We have to attend a pre job meeting with the Petronas Gas Berhad (PGB) management incharge. In the pre job meeting, we will discuss all about the project. We discussed the tentative program, schedule, working procedure, job safety analysis, emergency response procedure and much more. After the meeting and after the PGB personnel are satisfied with our presentation and discussion, they'll approve the 'permit to work' (PTW). This is a very important document to have before performing any job at site. If we don't have this form completed and approved, we definitely cannot perform the job. It's againts the PGB rules and regulation. And for other oil company, it's the same thing. When any accident occurs (we would not want this to happen), PTW is the first document to be refered to.


These are various type of pigs that are used to clean the internal pipeline. And also to perform chemical batching. Click HERE to read more.
So, the job scope is basically internal pipeline chemical cleaning of the PGB pipeline. We were awarded a contract to maintain 2 pipelines (gas and condensate line). In short, we will pig the pipeline with various type of pigs. Well, pig is actually a tool to scrap and clean the inner side of a pipeline. Not the animal >>> "pig". Besides pigging the pipeline, we add some chemicals to clean the pipeline and also to inhibit it from corrosion. This is actually my role. I was incharge in leading a group of people to blend the chemicals at site, do some in-situ testing to ensure the quality is according to spec, manage the process of injecting the chemicals into the pipeline and ETC. Well, not only that, that's more task and responsibility behind that....

this is part of the onshore story....to be continued....
posted by Kipas Repair JB @ 5:29 PM,

0 Comments:
The Author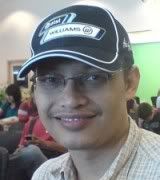 I'm Zaki. I used to be a project, process and chemical engineer. Few years ago I successfully became a Chartered Engineer (IChemE) and Professional Engineer (BEM). I'm now employed as a chemical engineering educator/researcher/consultant. Hope you like reading my blog. I welcome any feedback from you. My email: zaki.yz[alias]gmail.com. TQ!