Just a Short Note OFIC

I'll be heading to Kuala Lumpur tomorrow to attend the "Oil and Fats International Conference" (OFIC). The event is from 12 - 14th September 2006 it is organized by "Oils and Fats International" and "Malaysia Oil Scientist and Technologies Association" (MOSTA). I'm expecting a lot of technical discussion regarding the oil and fat industry. There will be some attention focused on the biodiesel industry as well. I'll definitely make full use of the conference/event by meeting various people from relevent the industry, discussion, forums, technical presentation and others.

If I have the opportunity, I'll surely post something new to share with all the 'netizens'. But if not, then I'll be back on Friday. I'll provide some fresh from the oven stuff!!!

To read more about Oils and Fats International, click HERE
To get details on the OFIC 2006, click HERE
To get future info of OFIC 2007in China, click HERE
To learn more about what is MOSTA, click HERE


posted by Kipas Repair JB @ 12:43 AM,

1 Comments:
At Wednesday, September 13, 2006, abiumar said...
The Author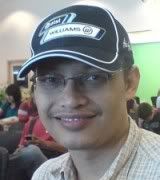 I'm Zaki. I used to be a project, process and chemical engineer. Few years ago I successfully became a Chartered Engineer (IChemE) and Professional Engineer (BEM). I'm now employed as a chemical engineering educator/researcher/consultant. Hope you like reading my blog. I welcome any feedback from you. My email: zaki.yz[alias]gmail.com. TQ!