Oil & Gas - Chemical Engineering put in practice...

Chemical Engineering Career You Can Expect...It's Your Choice. Part 4...

The Internal Pipeline Chemical Cleaning project is not a small one. I did mention that i took care of the chemical blending part. But there's actually more than that. But, now I'm just going to tell just a little bit about my chemical blending part.

Well, blending chemical is easy, IF the chemical amount is small. But what if the chemical that you want to blend is a lot? Yeah...I have to blend chemicals in big batch volume. When we performed a big chemical cleaning project, i normally will blend more than 25 m3. I blended the chemicals in a big 2.7m3 polytank. But not many of them were available. There were all together 5 polytanks only. So, i have to work and optimize the blending process using just 5 polytanks. Here, the most important stuff is the PLANNING. I have to plan the blending process. I have to time the blending accordingly. I have to wait and collect water as a diluent for the chemicals. And a lot of water is required. I used several submersible pumps as well in order to transfer water/chemicals from one polytank to another polytank. I used some explosive proof drum pump to suck out the chemicals from a 200L drum. I must prepare and make sure that power is available and it is supplied to our blending area in a very safe manner.

In this project i have to handle 5 types of chemicals/solvents.

1. Degreaser - to clean, dissolve any deposit and inorganic/organic material sticking in the internal pipeline. It's an alkaline water base chemical. It's a specialty chemical product produced by ClearWater Chemical. The type of chemical that we used is called Alpha-Clean W.


2. Corrosion Inhibitor - This is the chemical that will inhibit corrosion from taking place. It's also produced by Clearwater Chemical. We used a chemical called Alpha 3013. The appearance is dark blackish pungent smell odour. If this chemical spilled onto your cotton coverall, don't bother to wash it because it won't go. And because of this chemical, we have to wear this 3M half face mask with the acidic vapour and/or organic vapour 6003, 6006 cartridge.

3. Biosolve - This is the most pleasant multipurpose chemical. It is used to encapsulate hydrocarbon and also it can suppress any heavy metal vapour particulate in air. When there's any hydrocarbon spillage, we can quickly apply this chemical which will be first blended with water and just spray it on to the spillage. And beware...this chemical is expansive!!! But it's worth it....It's a great product.


One application of biosolve is to suppressed and neutralize hydrocarbon via bioremediation process

4. Kerosene - This is just normal kerosene that i use to perform some in-situ test to ensure the quality of the degreaser and corrosion inhibitor that i blended. I normally use kerosene to conduct the foaming and emulsion test. It's just a simple test.

5. Thiored - this is a new chemical that i have to used and apply lately. This chemical is specially designed to contained and suppressed mercury. It's a polythiocarbonate base chemical. We have to be extra cautios because there's possibility that mercury in any form can exist in the condensate or gas products.

And of course all these chemicals will be blended with water.

posted by Kipas Repair JB @ 8:43 PM,

0 Comments:
The Author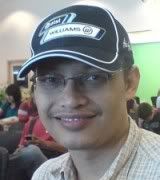 I'm Zaki. I used to be a project, process and chemical engineer. Few years ago I successfully became a Chartered Engineer (IChemE) and Professional Engineer (BEM). I'm now employed as a chemical engineering educator/researcher/consultant. Hope you like reading my blog. I welcome any feedback from you. My email: zaki.yz[alias]gmail.com. TQ!