OFIC 2006 Modules

OFIC 2006 is the 6th congress and FOUR interesting modules were discussed:

Business on Oils and Fats and Marketing (BOFM)

Seven papers were presented which covered the price outlook, the economic perspective of trans fat labeling for the oils and fats industry, the long term supply and demand outlook, sustainability of the commodity boom, as well as sustainability issues such as a food supply chain management, energy and the environment and branding and logistics issues related to the oils and fats sector.

Before this, we know that currently America uses soy oil, Europe Union (EU) uses rape seed oil, and Malaysia & Indonesia uses palm oil to make biodiesel. However, what will the future of biodiesel? It seems that the future of biodiesel lies in B5.

There is also some concern about the supply of rape seed oil for biodiesel in EU. It seems that the future supply of rape seed oil for biodiesel would not be enough!!! EU might plan to get the biodiesel from somewhere else. It can be from Malaysia or Indonesia (from palm oil). But, one of the panel believed that if EU requires additional supply of biodiesel, it would come from Canada which is from canola oil!!! Well, let's see then...


Bio-Energy (BE) Module

Comprehensive treatment from aspects of environment and application in some countries was addressed. The bio-energy includes biodiesel and bioethanol.


Food, Nutrition and Health (FNH) Module

Global consumers are increasingly becoming health conscious in their food choices. The oils and fats industry is faced with many challenges given the common perceptions and issues surrounding oils and fats. The scare surrounding trans fatty acids and the need to replace hydrogenated fats is of paramount importance to the manufacturer and consumer. This module managed to provide state-of the art updates for the food manufactures and the nutritional and health professionals.
A team of specialists with combined expertise of more than 100 years of research experience are slotted to eloquently debate these issues and provide focus and directions to the industry, hidden behind the veil of these health issues the oils and fats industry is still able to generate a number of health generating components and formulations. Knowledge provided at this module enable us (manufacturers and consumers) to make the better fat choice. However, I personally thought that the papers and topic presented were great but however the time for the presenter to fully deliver and elaborate the points were lacking. We, the delegates/participants also need a little bit more time to ask questions in order to really have better comprehension on the heavy topics presented.

New Technologies and Commercialisation (NTC)

The module will feature an overview on commercialization of technologies including Polyols, Biomass in manufacture of furniture, shell free palm kernel cake for animal feeds and others. The polyols obtain from palm oil was an interesting one. Well, I'll post the paper along side here when i got them.
My overall view of the event:
As a delegate who are really interested in listening and joining the technical paper presentation, I think we do not have sufficient time to really mingle around and meet up with the exhibitors (whom have various latest products/technology to show...). The only time that we have was during the twice a day 20 minute tea break + a lunch break. The tea break was at the 4th floor, the same area with the exhibition hall while we were having our lecture on the first floor. So, about perhaps 5-7 minutes of walking to and from the tea/exhibition hall. And I choose not to have my tea because I wanted to visit the participating companies in the exhibition. So, after 3 days attending OFIC 2006, I think, i only managed to visit (discuss/learn about the products/technology) 80% of the participating booth.
posted by Kipas Repair JB @ 1:09 AM,

2 Comments:
At Monday, September 18, 2006, said...

Hi, i was looking over your blog and didn't
quite find what I was looking for. I'm looking for
different ways to earn money... I did find this though...
a place where you can make some nice extra cash secret shopping.
I made over $900 last month having fun!
make extra money

At Monday, September 18, 2006, Kipas Repair JB said...
The Author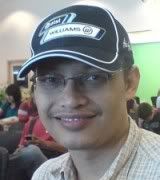 I'm Zaki. I used to be a project, process and chemical engineer. Few years ago I successfully became a Chartered Engineer (IChemE) and Professional Engineer (BEM). I'm now employed as a chemical engineering educator/researcher/consultant. Hope you like reading my blog. I welcome any feedback from you. My email: zaki.yz[alias]gmail.com. TQ!