I used a lot of plate heat exhangers in my plant and most of them are manufactured by Schmidt-Bretten. The model/type of plate heat exchanger that i used is Sigma 64. Just like the one that you can see on my previous post, but that one is fouling badly. You can see the pieces of hard gum and scale etc ugly stuff....

I'm having a tough time gathering informations and
inventory of my spare heat exchanger plates. I need to back up my plates so that i can dismantle a heat exchanger and replace them immedietly with the spare plates come with gasket. This is very important to ensure production smoothness. Well, there's a lot to tell about a small topic of heat exchanger. We do not get this in university and text book. We get most of this from experience.

Following are some information that i took from Schmidt-Bretten site.

The main advantages of plate heat exchangers are

* High heat transfer coefficient with low surface areas.
* Compact design, does not need much space.
* Small temperature differences are possible between the fluids.
* High versatility, the design allows for fast and easy rearranging of the plates as operating or process conditions change.
* Movable pressure plates allow easy access to the plates for cleaning.
* Low investment costs.
* High corrosion resistance.
* A plate exchanger contains only low quantities of fluids.
* Material for plates and gaskets is chosen according to end use.
* Easy-to-service.

Read more from Schmidt-Bretten Link Here

Subscribe to this blog to get updated with various chemical engineering experience info/sharing...subscribe link on the side bar
Labels: Heat Exchanger
posted by Kipas Repair JB @ 10:30 PM,

3 Comments:
At Friday, December 22, 2006, said...

WE PRODUCE ALL GASKET FOR SCHMIDT SIGMA PLATE HEAT EXCHANGER.
PLEASE CONTACT US TO RECEIVE A QUOTE. DELIVERY IN 10 DAYS
THORNHILL ITALIA S.R.L.
ITALY
TEL +39 (0)321 877541
FAX +39 (0)321 879259
INFO@THORNHILLITALIA.IT
WWW.THORNHILLITALIA.IT
BEST REGARDS

At Friday, December 22, 2006, said...

At Saturday, June 28, 2008, said...
The Author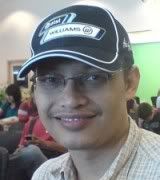 I'm Zaki. I used to be a project, process and chemical engineer. Few years ago I successfully became a Chartered Engineer (IChemE) and Professional Engineer (BEM). I'm now employed as a chemical engineering educator/researcher/consultant. Hope you like reading my blog. I welcome any feedback from you. My email: zaki.yz[alias]gmail.com. TQ!