Following is an email that I received from the EngineerLive.com newsletter. Just wanna spread it out loud...

Weimar, Germany, June 10-12: Petroleum and Chemical Conference

Can you afford to miss a conference that could affect the way you use electrical and automation solutions for years to come?

At PCIC Europe 2008, you can learn from the experience of engineers like yourself who have installed, implemented and used electrical and automation equipment in real applications in your industry. Register now at:
http://www.pcic-europe.eu/g3.cfm/s_page/61890/s_name/registration
With the emphasis on the practical, a number of papers will be presented at the conference, by experts from end user companies, engineering companies, manufacturers, regulators, certifying bodies and international standardization organizations. See the latest agenda at
Speakers will be available for questioning, making PCIC Europe a place for end users to air their views and influence the way your industry implements and uses electrical and automation equipment, now and in the future.
As well as the programme speakers, there will also be a guest appearance by Dr Bernard Bulkin, a leading expert on climate change who will give a presentation entitled, 'What do Engineers need to know about Sustainable Development?'-go to http://www.pcic-europe.eu for more information on this.
His presentation will examine the core issues of sustainable development and how they can be applied to engineering design, the importance of systems thinking and the education of the next generation of engineers.
Join us in Weimar, Germany, from June 10 -12, Register now at:
http://www.pcic-europe.eu/g3.cfm/s_page/61890/s_name/registration and bring your own ideas and experience to the table to help improve the use of electrical and automation equipment in the industry.
P.S.:To book your place at the conference and for further details, please visit:
http://www.pcic-europe.eu
--------------------------------------------------------------------------
Get Your Dream Offshore Job - Offshore Oil Industry Resume Distribution Service And Employer Services
Labels: Chemical Engineering, Oil and Gas, Seminar
posted by Kipas Repair JB @ 1:07 AM,

0 Comments:
The Author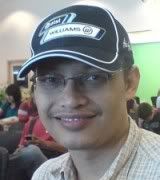 I'm Zaki. I used to be a project, process and chemical engineer. Few years ago I successfully became a Chartered Engineer (IChemE) and Professional Engineer (BEM). I'm now employed as a chemical engineering educator/researcher/consultant. Hope you like reading my blog. I welcome any feedback from you. My email: zaki.yz[alias]gmail.com. TQ!