Following is an invitation by email that my university friend, Dr. Manal from UKM has sent to potential participants. This round the 15th Regional Symposium on Chemical Engineering (RSCE) will be carried out together with 22nd Symposium of Malaysian Chemical Engineering (SOMChE), which is Malaysia level symposium. Check out the adopted email below:

Dear Potential Participants of RSCE-SOMChE 2008,

We are inviting you all to participate in the 15th Regional Symposium on Chemical Engineering that will
be held in conjunction with the 22nd Symposium of Malaysian
Chemical Engineering on the 2nd - 3rd December '08, Impiana KLCC Hotel & Spa, Kuala Lumpur, Malaysia.
You are welcome to KL and enjoy your stay here while attending the conference
Updates of RSCE-SOMCHE08 :
The conference date: 2nd - 3rd December 2008
The venue of the conference: Impiana KLCC Hotel & Spa
The url of the website is http://www.rsce_somche08.ukm.my
Important dates: Deadline for Abstract Submission: 1st June 2008
Acceptance of Abstracts: 30th June 2008
Deadline for Full Paper Submission: 31st August 2008
You can send the abstract to
rsce_somche08@eng.ukm.my
The fee structure is as follows:
Participant Malaysia:

Academics/Industries: RM750 Students: RM 450.0
ASEAN :
Academics/Industries: USD 250 Students: USD 150
Others:
Academic/Industries: USD300 Students: USD 250
The International Scientific Committee (Advisory Panel):
Prof. Ir Dr. Wan Ramli bin Wan Daud (Malaysia) : Chairman
Assoc. Prof. Ir. Dr. Mohamad Azlan Hussain (Malaysia)
Prof. Dr. Suryo Purwoto (Indonesia)
Assoc. Prof. Dr. Sanggono Adisasmito (Indonesia)
Prof. Dr. Masaaki Suzuki (Japan)
Prof. Dr. Hiroo Niiyama (Japan)
Prof. Dr. Susan A. Roces (Philippines)
Prof. Dr. Maria Natalia R. Dimaano (Philippines)
Prof. Dr. Ching Chi Bun (Singapore)
Prof. Dr. Xu Rong (Singapore)
Prof. Dr. Piyasan Praserthdam (Thailand)
Chutimon Satirapipathkul (Thailand)
Prof. Dr. Tran Vinh Dieu (Vietnam)
Prof. Dr. Le Cong Hoa (Vietnam)
Papers are invited in the following areas:
1. Biomolecular and bioprocess Engineering
2. Advance Materials and nanotechnology.
3. Process System Engineering.
4. Clean Production and Safe Practice
5. Complex Fluid Engineering
6. Renewable Energy
7. Food and Product Technolgy
8. Reaction Engineering
The tentative keynote speakers are:
Industry:
1. Biomolecular and Bioprocess Engineering: Dato' Dr.Mohd Nazlee Kamal, Chief Executive Officer, Inno Biologics Sdn Bhd, a home-grown biotech company.
Academia:
1. Nanotechnology: Prof. Anurag Mehra, Indian Insititute of Technology, Mumbai, India
2. Process System Engineering: Prof. Iftikar Karimi, NUS Singapore
3. Cleaner Production and Safe Practices: Prof. Emeritus Isao Somiya, Ryukoku University, Japan (formerly aProfessor at Kyoto University, Japan)
4. Renewable Energy: Prof. Nobuyoshi Nakagawa, Gunma University
5. Food and Bioproduct Technology: Prof. Ernesto Reverchon / Dr. Giovanna Della Porta, Italy
6. Chemical Engineering Education: David ShallCross, University of Melbourne
IChemE:
IChemE Technical Roadmap: David Brown
Please do not hesitate to email me for further enquiries.
Thank you.
Best regards,
Dr. Manal Ismail
Secretariat RSCE-SOMChE 2008
Chemical & Process Engineering Dept,
Faculty of Engineering,
Universiti Kebangsaan Malaysia
Office: +603 89216404
Fax : +603 89216148
RSCE-SOMChE 2008 email: rsce_somche08@eng.ukm.my
-----------------------------------------------------------------------
Convert You Car To Burn Water + Petrol = Double Your Mileage!
High Conversion, Few Refunds, Due To Huge Demand: Soaring Gas Prices Compel People To Save Gas!!! Popular D.i.y Watercar: Run Your Car Partially On Water, Reduce Emissions/Global Warming! Practical Free Energy Based On 1000s Of Real Cars Worldwide!!!

Labels: Chemical Engineering, Exhibition, Seminar
posted by Kipas Repair JB @ 12:44 AM,

1 Comments:
At Friday, May 30, 2008, ManaL said...
The Author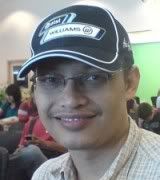 I'm Zaki. I used to be a project, process and chemical engineer. Few years ago I successfully became a Chartered Engineer (IChemE) and Professional Engineer (BEM). I'm now employed as a chemical engineering educator/researcher/consultant. Hope you like reading my blog. I welcome any feedback from you. My email: zaki.yz[alias]gmail.com. TQ!