It's a fact that playing football in Barclay Premier League (BPL) must be very lucrative. However STOKE star Seyi Olofinjana has a different view of it. He wants a new career in the later when he retire from football. He wants to join the oil industry.
The 28-year-old midfielder already has a degree in chemical engineering and wants to top that.
He is paying 12,000 pounds sterling for a distance learning course in subsea engineering with Aberdeen University and hopes to work in the huge oil industry back home in Nigeria one day.
Middlesbrough is not a dream day out for many people — but the chemical plants of Teesside could provide a glimpse into Olofinjana's future.
He said: "I could be working out on the oil rigs when I'm 35, you never know."
The key thing is to get myself prepared. You need to fall back on something. No matter how well you do in football, it's not for ever.
Source:
The Sun Newspaper
It's very interesting to know that a professional footballer like Seyi have an interest and degree in chemical engineering and looks forward on his new career later. Not a lot of footballer will have radical career plan change like him. Let's just see his new career after retiring from soccer.
My 2 cents: I hope he'll be a successful chemical engineer (and hope to see him wear coveralls and safety helmet...).
More information about Olafinjana's profile as a footballer:
Wikipedia.org/wiki/Seyi_Olofinjana

4thegame.com
-----------------------------------------------------------------------
FREE Technical Magazines - Chem-Eng.Tradepub.com.

Join Chemical Engineer Rocks FACEBOOK Group...
Apply Chemical Engineering Jobs online - Updated daily... :)
Be the best chemical engineer you could be. Learn something about chemical engineering that's not inside your textbook. Subscribe to the content of this blog.
Labels: Chemical Engineer
posted by Kipas Repair JB @ 9:55 PM,

0 Comments:
The Author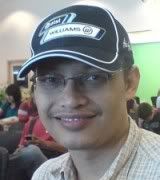 I'm Zaki. I used to be a project, process and chemical engineer. Few years ago I successfully became a Chartered Engineer (IChemE) and Professional Engineer (BEM). I'm now employed as a chemical engineering educator/researcher/consultant. Hope you like reading my blog. I welcome any feedback from you. My email: zaki.yz[alias]gmail.com. TQ!